Welcome to Aquatic Warehouse!
GHL Doser Maxi Stand Alone Unit, White
GHL Doser Maxi Stand Alone Unit, White
$369.00
$429.99
$3.69 back via Rewards Points
Price in reward points: 36900
Precision and Innovation. The Doser Maxi that can just do more.
Thanks to the high quality technology inside the modern GHL Doser Maxi, it not only provides precise and simple dosing, but it also includes many more features. With the free GHL Connect App or the cloud service myGHL you can access your Doser from anywhere in the world to start dispensing programs or check the levels of your metering liquids.
Perfect for those who want precise pumps dosing small 1mil quantities, but also want the ability to move large volumes of fluids!
The device is comfortably operated from your smartphone or your PC. The connection is possible via WiFi, LAN and USB.
The LED illuminated GHL Logo in the housing serves as a status indicator. It displays the condition of your aquarium by displaying various colors and tells you when something requires your attention.
The GHL Doser Maxi can be used as a Stand Alone Unit (SA), as well as a Slave Unit.
Features and Benefits Include:
·

Advanced Connectivity

·

Integrated Refill (Auto Top-Off)

·

Suited for permanent operation

·

Very Precise Dosing

·

LED Status Display

·

Level Indication and Alarm

·

Versatile Connectivity Options

·

Easy Handling

·

Simple Connection

·

Convincing Quality

·

Model Diversity

·

Expandable to a Whole Dosing System

2 Year

Warranty
Stand Alone and Slave Doser
Do you need more than one device? If so, the GHL Doser Maxi is perfect for you because the Doser can be expanded into an efficient dosing system.
The autarchic Stand Alone unit has integrated control electronics. With it, you can additionally control other Slave Doser (GHL Doser 2/2.1 Slave or GHL Doser Maxi Slave) units.
The Slave Doser has an interface for control via the Stand Alone Doser (GHL Doser 2/2.1 SA GHL Doser Maxi SA) or the ProfiLux Controller.
You can control a total of 16 pumps independently.
The settings for all the pumps can be adjusted easily and clearly with our software. Even when you are not at home, you can still have access.he highly accurate 24 V stepper motors allow you to perform up to 150doses per day. The dose is precisely adjustable to 0.1 ml!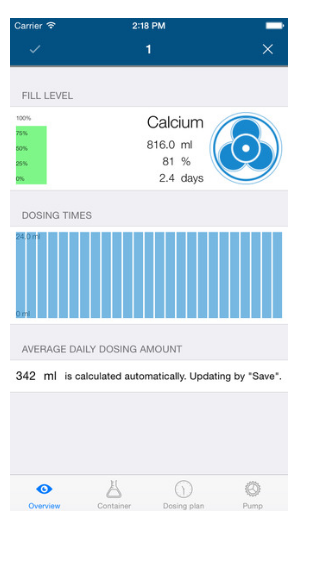 When determining the dosing times you can either choose your doses being distributed automatically throughout the day. Or being distributed up to 8 doses per day, individually set.
Quality and Functionality. Down to the Smallest Detail.
Each pump can be operated manually via the push buttons on the front panel. This allows you to quickly post-dosing, deflating the tube vent or suctioning liquids.