Welcome to Aquatic Warehouse!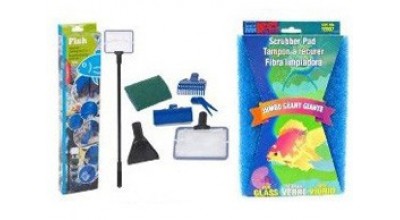 Aquarium maintenance is important for removing decaying organic matter from your tank, which is why at Aquatic Warehouse we offer a selection of vacuums, scrubbers and magnets to make cleaning as easy as possible for you.  Consider a magnetic algae cleaner for your cleaning needs. If you have a ½" to 5/8" thick aquarium, we recommend our Algae Free Hammerhead Float Algae magnet because of its powerful strength! If you require an even stronger magnet for the toughest jobs, the Algae Free Great White Algae Magnet Plus is the best choice. It's the strongest magnet on the market with a 4" x 2" cleaning area. Our magnetic algae cleaners are ideal for glass or acrylic aquariums.
We also carry the best Aqua Life gravel vacuums for aquariums at affordable prices! Our lengths vary from 5-16 inches so you can find the best gravel vacuum for aquariums that suits your needs. Keep the chemistry of your water balanced and make your entire aquarium look beautiful! Browse our selection of aquatic maintenance tools today.
Refine Search